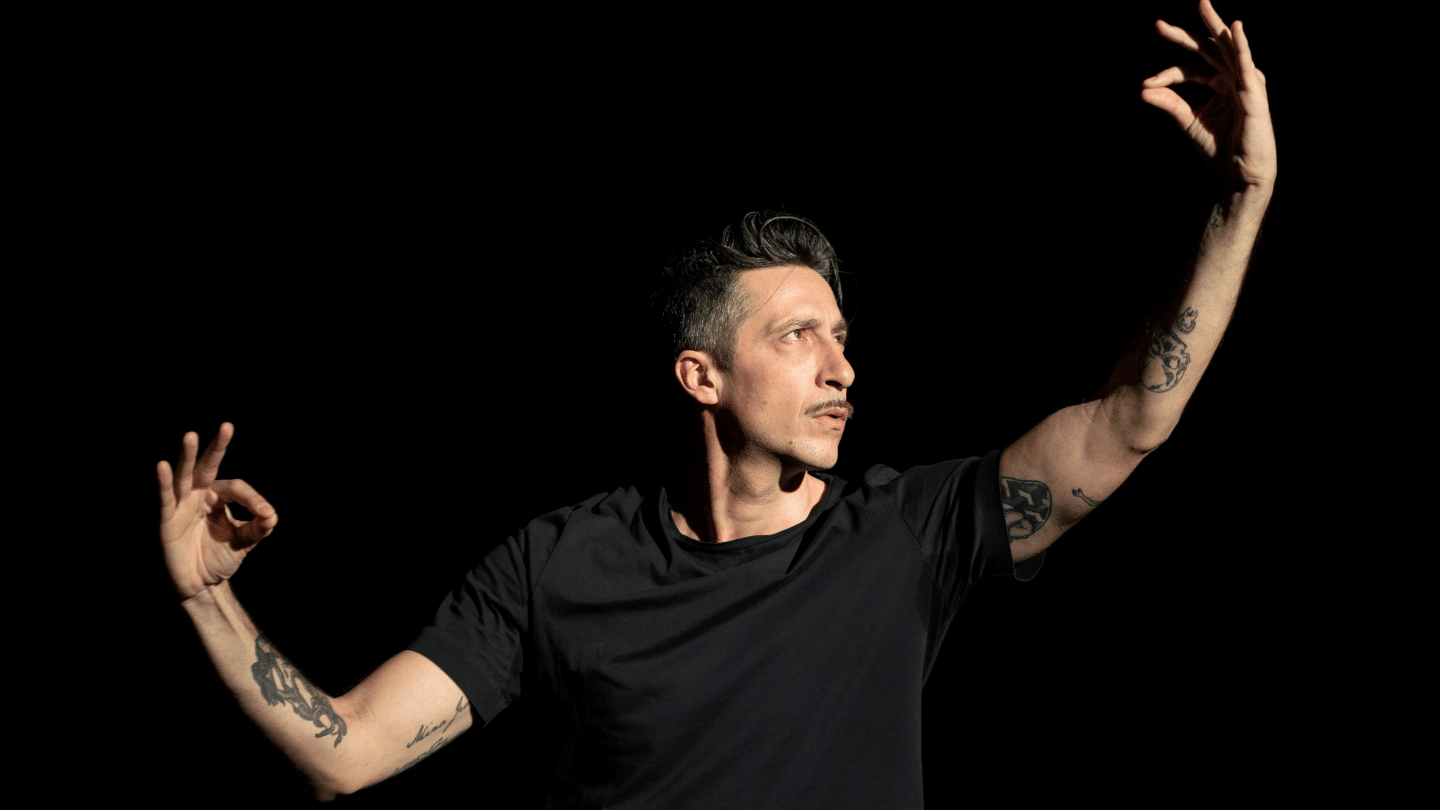 Featured Artist
The Kingdom of Shades – Signe Blanc and Portrait of Frédéric Tavernini
---
Noé Soulier | Cndc-Angers
Note: Sales will close on our Box Office at 4pm. Limited tickets available at The MAC.
In this our 60th anniversary edition, we are launching a new initiative where we look at the practice of an artist or ensemble in greater depth. Our first Featured Artist is leading young French choreographer, Noé Soulier, a rising figure in modern choreography and Director of the National Contemporary Dance Centre in Angers.
The Kingdom of Shades – Signe Blanc
The Kingdom of the Shades is the most well-known passage from La Bayadère, the famous ballet by Marius Petipa and Noé uses it as a basis to explore the poetic incongruity of dance and everyday movements in the company of Vincent Chaillet, former Principal Dancer with the Paris Opera Ballet. Continuing into Signe Blanc, Noé and Vincent extend their experimental approach to look at ballet mime vocabulary and the often multiple and contradictory messages between what we hear and what we see.
Portrait of Frédéric Tavernini
Tall, strapping, mature, sculpted, tattooed, Frédéric Tavernini, who has danced for many of the great European choreographers such as Maurice Béjart, Trisha Brown, Mats Ek, William Forsythe and Angelin Preljocaj, occupies the stage with breadth, clarity, concentration, precision; he is revealed, in his life experience and current body, between memories and visions, to the rhythmic notes of a piano that softly touches on Stravinsky, Hindemith, Tchaikovsky, Chopin.
A rare chance to see two amazing dancers up close and personal!
Read more about our Featured Artist Noé Soulier.
Due to unforeseen circumstances, the Saturday performance of The Kingdom of Shades- Signe Blanc and Portrait of Frederic Tavernini is cancelled.
---
Credits
The Kingdom of Shades – Signe Blanc
Choreography: Noé Soulier
With: Vincent Chaillet, Premier danseur du Ballet de l'Opéra National de Paris
Production: PARTS
Executive production: Cndc – Angers
Production: wpZimmer, Palais de Tokyo
Executive production: Cndc – Angers
Portrait of Frédédric Tavernini
Choreography: Noé Soulier
Interpretation: Frédéric Tavernini
Music: Matteo Fargion
Lights: Victor Burel
Production: ND Productions
Executive Production: Cndc – Angers
Coproduction: CN D Centre national de la danse, Pantin (FR)
With the support of Direction Régionale des Affaires Culturelles d'Île-de-France – Ministère de la Culture et de la Communication au titre de l'aide à la structuration Noé Soulier is associated artist at CN D Centre national de la danse.
This work prolongs the research initiated in the project 7 Dialogues directed by Matteo Fargion and produced by Dance On Ensemble (dance-on.net).
Image by Marc Domage
---
PREMIERE PICK N MIX TICKET DEAL!
OFFER 1: Multi-buy discount
– Choose 2 selected events: save £8 Full/ £7 Conc*
– Choose 3 selected events: save £12 Full/ £10.50 Conc*
Bookings must be made in one transaction to qualify for the discount. Available throughout the festival.
*Discount on advertised Full and Concession rate tickets.
OFFER 2: Earlybird discount
Take advantage of 20% discount on selected events when you book between Tues 9 Aug – Sun 11 Sep.
Only one offer can be applied at checkout.