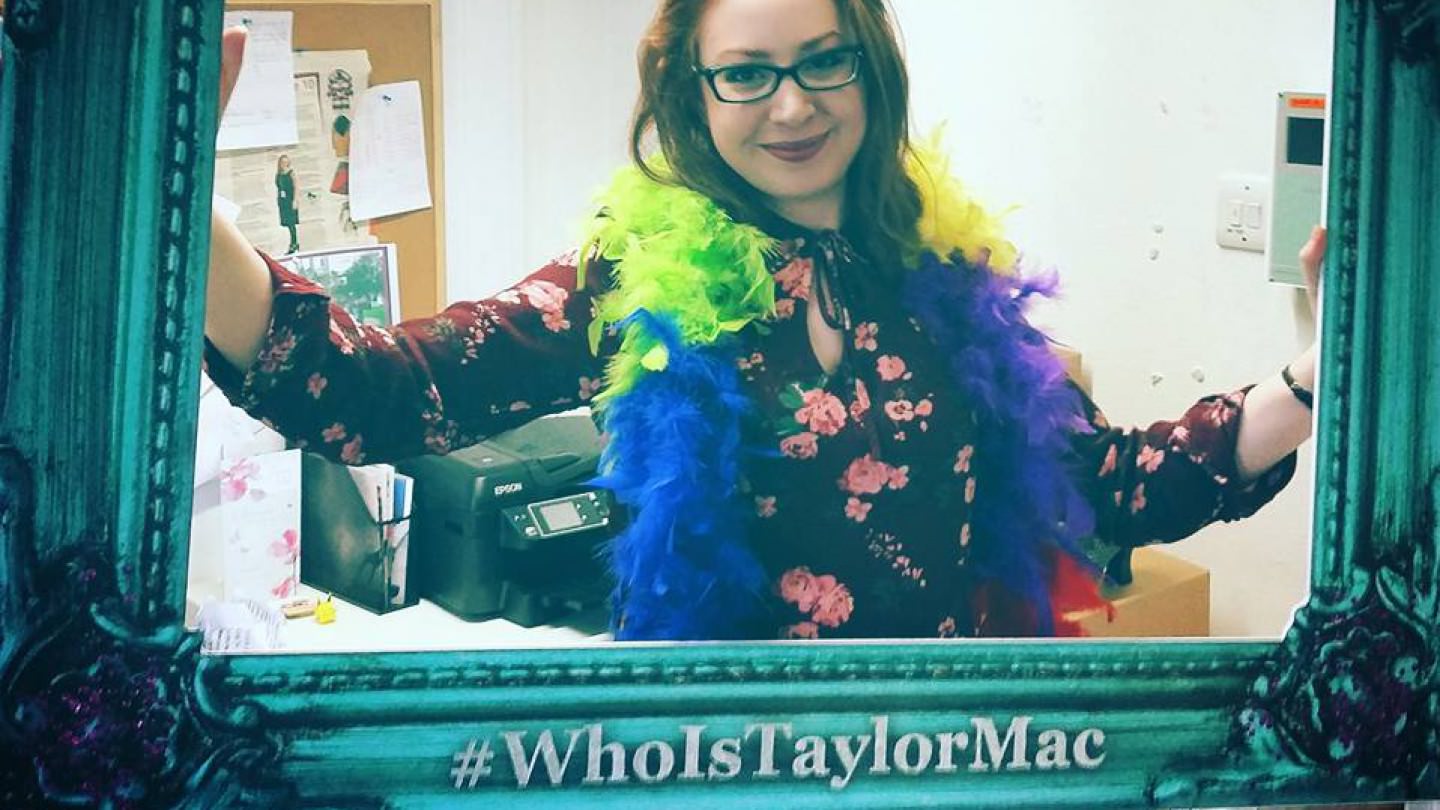 #BelFest's Top 10 events – an intern's opinion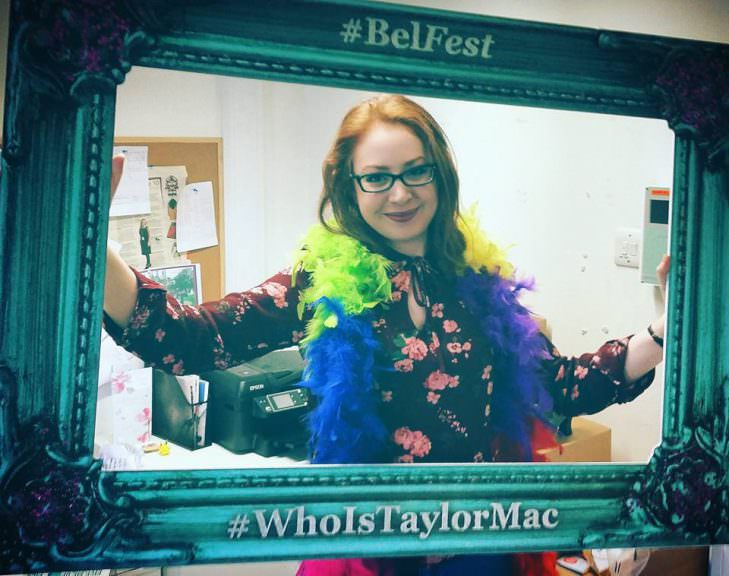 As if you need any more encouragement to see any of the fantastic events on offer during the Ulster Bank Belfast International Arts Festival. But if you are (understandably) having some trouble choosing, fear not! Our Festival intern, Mairead McCormack, has made a list of the top 10 festival events!
1. First up is the Obie Award-winning New York Performer, Taylor Mac in all his flamboyant glory. If you haven't heard, he's kind of a big deal…
'I have but 300 words to review Taylor Mac's concert extravaganza spanning the years 1776 to 2016. My remaining should simply be: "Go!" Also: "Bring your Doctor!'
Although doctors are optional,>Taylor Mac's 24 Decade History of Popular Music is a must see event. In his first two concerts, his astute take on music and culture spans the years before, during and after WWI, from 1896 – 1926. His third concert will be a ten decade spectacular from 1916, the year of the Battle of the Somme and the Easter Rising through to 2016.
Fundamentally an actor and singer, Taylor Mac mixes singing and songwriting, with Cabaret, Big Band Music, Performance Art and social politics. He does this in a way that is guaranteed to have audiences laughing, cheering and questioning as he reflects on notions of authority, class, gender, patriotism and war.
Complete with a live band and a dazzling array of costume creations by Machine Dazzle, New York's fabulous bedazzled bon vivant and performance artist, is sure to create a few fireworks with his antics in The MAC in Belfast.  They don't call him the 'Darling of the New York scene' for nothing…
2. Next up is Sarah Maple's Keeping up with the Kapulets. In the wonderful year of 2016, who doesn't know more than they'd care to admit about the Kardashians? Well, now you can see actors in full period costume recreate an episode of Keeping up with the Kardashians, word for word, in the context of classic Shakespearean theatre production.
Four hundred years after Shakespeare's death, this event takes a sideways look at his works and a new take on reality television! It considers the attitudes, fashion styles and life choices of those who are so prominent in the public eye and are continuously fed into wider culture with a relentless turnover and quality of content.
And did I mention that this event is FREE? You have no excuse not to absorb a bit of Elizabethan culture!
3. Another must see event is Butterflies and Bones: The Casement Project with dance artist and choreographer Fearghus Ó Conchúir. Although Roger Casement is well know for many things, this piece portrays him in a way you've never seen. Butterflies and Bones uses dance to portray an imaginative response to Casement's life and afterlife. It draws on his complex and queer history and fabricates a national body that welcomes the stranger – from beyond the border, as well as the one already inside… (intriguing right?)
4. If you're looking for something musical, I would definitely recommend that you see Justin Kauflin in the Black Box. Kauflin performed concerts from the age of six and went on to become a concertmaster for several orchestras. Along the way Justin started to lose his vision, until he was totally sightless. Not to be deterred, he developed a love for jazz, and received a scholarship to study at William Paterson University, where he came under the guidance of Harold Mabern and Clark Terry.
Kauflin adjusted by learning 5 grades of Braille, cane mobility and, after a decade of classical violin and piano, switched to jazz piano. By 2011, the Justin Kauflin Trio was headlining regularly at Havana Nights Jazz Club in Virginia Beach and Kauflin was touring constantly. His debut album for Jazz Village, Dedication was released January 2015 and debuted at #6 on CMJ Jazz chart, #10 on Billboard's Traditional Jazz Chart, hit #1 on JazzWeek's chart and remained in the top 10 spot for 9 straight weeks.
Who doesn't love a bit of jazz? And top class jazz at that! But don't take my word for it, take Clark Terry's!
"He's a monster on the piano!  And, one of the greatest people I know." – Clark Terry
5. Up next is the work of critically acclaimed visual and performance artist, Amanda Coogan with her piece, Run to the Rock. Another event celebrating Shakespeare and his magnificent works, Amanda uses a combination of sign language, performance, digital sound and live Instagram streaming to explore key themes in Shakespeare's texts and open up their continuing political relevance and accessibility for global audiences.
The work is inspired by the Robben Island Bible, a copy of 'The Complete Works of William  Shakespeare' which was smuggled among and annotated by prisoners of the South African prison during the period of Nelson Mandela's incarceration. Passages of Shakespeare's plays were chosen by 32 inmates and Run to The Rock focuses on six passages, including Mandela's choice. These texts offers an insight into their thinking and the context of their experience. Definitely a must see!
6. Back to dance again with Jan Martens piece, The Dog Days Are Over. It is a hypnotic performance by eight dancers, made up of only one physical action: the jump. It is a repetitive fever dream, an exhausting battle of perseverance. Reminiscent of a bull in a ring, the audience is looking down on the dancers, striving for perfection. Jan Martens has created something completely different, a group performance about the thin line between art and entertainment. It is a performance that wants to provoke thoughts with its audience. Thoughts about the role of dance and art; It wants to question the audience's perception about dancers, choreographers, audience and culture policy. What do we want to achieve as an audience? Now there's something you've probably never thought about. Imagine! There's more to art than that painting on the wall!
7. An event from our World in Motion Theme of the Festival. The Suppliant Women is one of the world's oldest plays, originally written 2,500 years ago by the great Aeschylus in a new version by David Greig. The parallels of this play bear startling resonance the recent events of the Migration Crisis.
To put this into perspective – and this really hits home –  the distance that refugees are risking their own lives for, and the lives of their loved ones, from Turkey to some of the Greek Islands is similar to the distance between Rathlin Island and Ballycastle.
This play tells the story of fifty women who leave everything behind to board a boat in North Africa and flee across the Mediterranean. They are escaping forced marriage in their homeland, hoping for protection and assistance, seeking asylum in Greece. At its heart are fifty young women in full chorus arguing for their lives. The play is shot through with music, and it demands participation: using the techniques of Ancient Greek theatre –  recruiting and training an incredibly dedicated and hard-working chorus made up of the citizens of Belfast to create a must see extraordinary theatrical event!
8. Our opening event for this years festival, In Dreams Begin Responsibilities: A Journey in Words and Music is a celebration of reconciliation on the island of Ireland over the last 100 years and the 18th anniversary of the Good Friday Agreement. It remembers and reflects the many different choices made in the period since 1916, which have shaped the history of this island. Through poetry, music, drama and imagery drawn from some of the island's finest artists, it explores the complex history and acknowledges its varying moments of loss and tragedy, as well as of hope and joy. A significant event in our festival this year with some perspective on how far we've come, in the hope that we can work towards an even brighter and more peaceful future, particularly for the next generations.
9. Another must see event is the Northern Irish Premiere of Tony Conrad: Completely in the Present at the Queen's Film Theatre. Sometimes referred to as the Bill Murray of the Avant Garde (and who doesn't love Bill Murray?) Tony Conrad was one of the great American artists of our time. He was an early member of the Velvet Underground and toured with Sonic Youth and Faust in the 90's. This film traces Tony's incredible history and his joyful approach to art making as he is finally recognised for his decades-sweeping art and film work.
Still not convinced? Watch the trailer:
10. Last but certainly not least is the incredible Margo Jefferson with her memoir Negroland. Margo is in the Linen Hall Library on Saturday 29th October to look back on and share her childhood and the black bourgeois upbringing that 'made and maimed her.'
You've heard the stories, you've seen the movies and you may have read the books. But have you heard these stories from a real person who was actually there and has seen and experienced it first hand? If not, this is a fantastic opportunity to do so. Join Margo reflects on the crucial historical moments that she lived through – the civil rights movement, the dawn of feminism, the fallacy of post-racial America.
(In classic Irish tradition, you get a wee cup of tea and a sandwich with your ticket – ah go on, go on, go on!).