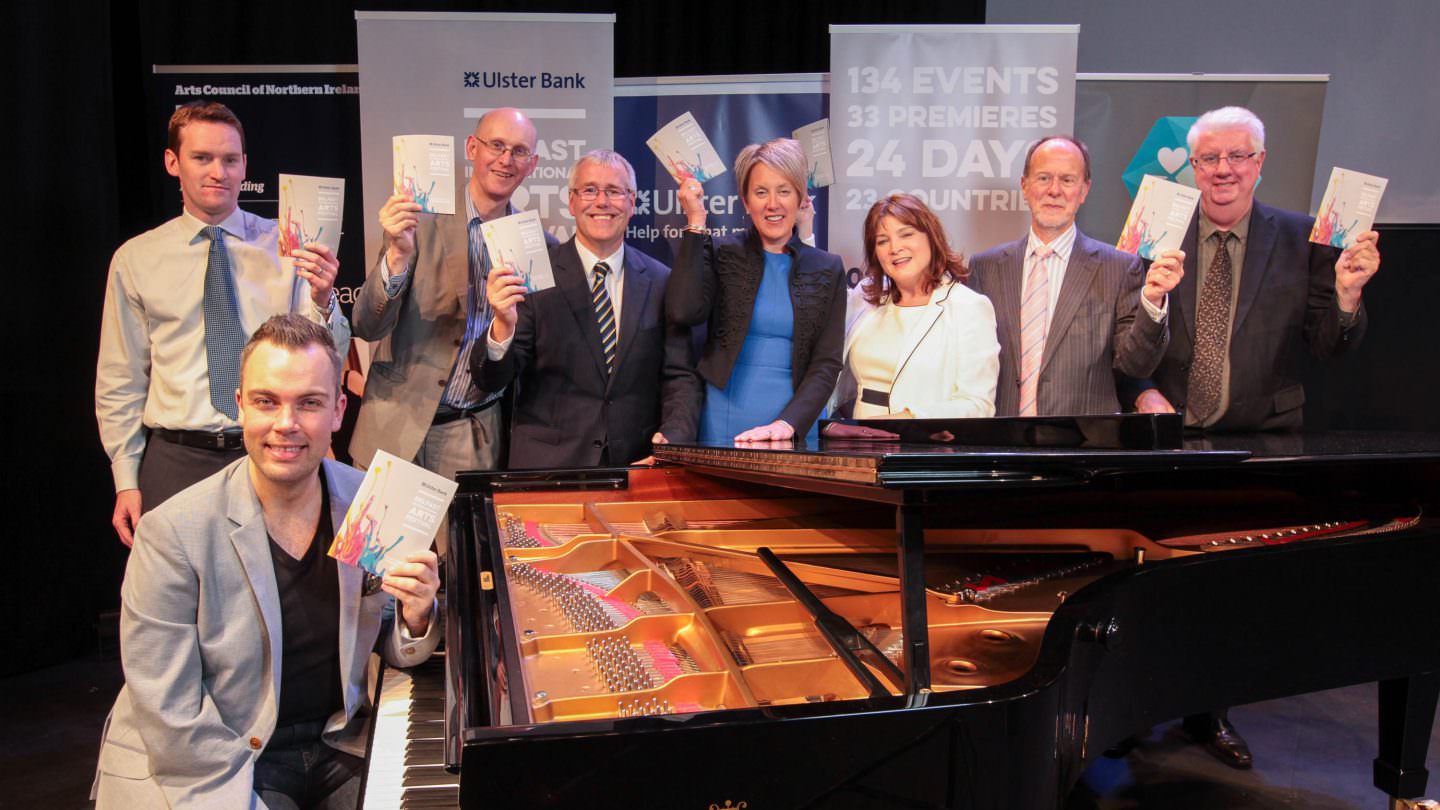 2015 Festival Programme Unveiled
The 2015 Programme for the inaugural Ulster Bank Belfast International Arts Festival was launched yesterday, revealing a truly world-class line-up of artists and events to inspire, provoke and stimulate.
It will feature 134 events from 23 countries, including 18 UK & Ireland Premieres, 9 Northern Ireland Premieres, 3 Irish Premieres and 2 World Premieres.
Major programme strands include a focus on arts and culture from India and Mexico; a wide range of spoken word and physical theatre and contemporary dance from acclaimed stage artists across the globe and new collaborative works and installations from the edges of Europe.
The Festival opens on 9th October with Adrian Dunbar starring in The Night Alive written and directed by Conor McPherson at the Lyric Theatre and also includes the multi-sensory stage spectacular, The Kitchen from India; the acknowledged pioneer of Europe's cirque nouveau movement, Martin Zimmerman with his latest stage work, Hallo; a contemporary retelling for family audiences of one of Prokofiev's most famous works as The Wolf and Peter; The National Theatre's West End hit, The Curious Incident of the Dog in the Night-Time; multi award winning poet, James Fenton and American journalist and nu media artist, Lyndee Prickitt to name just a few.
New contemporary dance and physical theatre from Europe's next generation includes To Break – The Window of Opportunity by Robbert & Frank and Chivalry is Dead from Alex Deutinger and Alexander Gottfarb.
Theatre highlights from local artists include the World Premiere of The Suitcase written by Jane Coyle at the Belfast Synagogue in North Belfast, a poignant drama in which a Jewish family in modern day Belfast traces an unexpected connection to a young dancer in 1930s Vienna.
Prime Cut's production of Mydidae from the BAFTA Award-winning writer of Skins and This is England, Jack Thorne, places the audience as flies on the wall of one couple's bathroom, as they explore and unravel their relationship whilst taking a bath.
The city becomes the backdrop for a series of visual and performance-based installations created by artists from around Europe as part of the Corners of Europe programme in association with the Arts Council of Northern Ireland. Artist residencies and events will take place from the New Lodge to The Mill at Conway Street and the offices of the Belfast Telegraph, with a few surprise locations yet to be revealed.
Several of these projects reflect a recurring theme for this year's Festival relating to the meaning of home and the nature of belonging: Oh My Home – Lost and Found in the foyer of the Belfast School of Art in York Street asks questions about migration, identity and rejection; whilst Birdhouse Gallery at Hazelwood Integrated College invites young adults to create works that reflect their notions of home. In the wider festival, Afghan refugee, Gulwali Passerlay shares his story in the Amnesty International Annual Lecture and members of the Irish Travellers Community showcase their art and stories in Thribli – Extended Family.
Music ranges from the legendary Georgie Fame giving a rare intimate live performance; the BBC Big Band inviting audiences at the Ulster Hall to dance to the swing hits of Frank Sinatra and Ella Fitzgerald; Maryland-born troubadour and Former Fleet Foxes member Father John Misty and concerts from the ever popular Waterboys, Bell X1, Andy Irvine and Sharon Shannon. The extraordinary one handed concert pianist, Nicholas McCarthy will perform during the Festival's opening weekend with the final weekend comprising performances of a provocative new version of Turandot from Northern Ireland Opera and directed by Calixto Bieito recitals from Pavel Kolesnikov and friends in a new Festival relationship with BBC Radio 3 with the wonderful voice of Cara Dillon giving the closing concert.
Launching the programme for the newly-named Ulster Bank Belfast International Arts Festival (formerly Ulster Bank Belfast Festival at Queen's), Director Richard Wakely said, "We are really proud to present residents and visitors to our city with a rich programme of music, theatre, dance and arts from around the world.
"Central to the Festival is a genuine effort to look beyond Northern Ireland for creative inspiration; we felt it was very important for the programme to include free events, venues across the city and performances and events which can be accessed by all ages and backgrounds.  We are thrilled to be able to present several wonderful  free events: The Animotion Show , featuring the world-renowned percussionist Dame Evelyn Glennie and Russian artist, Maria Rud creating live art projections and music at Belfast City Hall; Nine Nights, in association with ArtsEkta, which features over 1000 performers in a spectacular candlelit procession through the city; and a double bill of new and contemporary circus from France and Italy for families at Orangefield Park and again at Belfast City Hall"
The 2015 Festival will have a special focus on work from India and Mexico. As well as securing the UK and Ireland Premiere of Royston Abel's The Kitchen at the Grand Opera House and the Diwali-inspired Nine Nights, our week on India features a screening of the controversial BBC documentary, India's Daughter at the QFT and continues with a talk by Lyndee Prickitt, American journalist and creator of the devastating and ground-breaking multimedia fictional work that gives voice to a victim of India's rape crisis.
As part of the UK/Mexico Year of Culture, the Festival is delighted to present the UK and Irish premiere of Nostoros, a study through dance of South American masculinity that is athletic, beautiful and often very funny. The QFT also hosts a special mini season of new and classic films from Mexico.
Bob Collins, Chairman of the Arts Council of Northern Ireland: "The importance of a distinctive, world-class, international arts festival such as this cannot be overstated in its value to the cultural life and reputation of the city. It preserves the ability to attract the biggest and best to our shores – performers that local audiences would otherwise not have the chance to see – as well as providing an international platform opportunity for our own home-grown talent to shine. The arts are a central part of everyone's experience and can be transformative in all our lives. The Festival reflects that truth and makes a powerful statement of the place of the arts in the ambition and imagination of Northern Ireland." 
Richard Donnan, Managing Director Retail Banking and NI SME & C&IB, Ulster Bank, said: "At Ulster Bank we recognise the powerful contribution that the arts and creative industries make to the social and economic wellbeing of our society.  The colour, atmosphere and standard of international performance excellence have been enhanced in this year's diverse Festival programme, with something to suit all tastes and budgets.  The Festival's ability to reach out and engage all areas of society showcases the regeneration and vitality of Belfast.  We are proud to support the Festival team in delivering a truly international and world-class arts Festival."
Belfast Lord Mayor, Councillor Arder Carson, said: "We are delighted to support the Ulster Bank Belfast International Arts Festival and in particular to host some really exciting events at Belfast City Hall.  The Animotion Show, which has just finished a hugely successful run in Edinburgh, will see artist Maria Rud creating drawings and images, stroke by stroke, which are beamed live onto the façade of the City Hall, accompanied by the virtuoso drummer and percussionist Evelyn Glennie.  This is a free event on Sunday 18th October, but tickets will be a must."
Kathryn Thomson of Tourism NI said; "High calibre events are firmly established within our tourism fabric, adding to the positive perception and profile of our destination, and making a valuable contribution to the economy. The Ulster Bank Belfast International Arts Festival conveys a hugely positive message to our visitors and provides local colour and atmosphere through a wide range of activity, while increasing visitor spend. We look forward to a successful 2015 Festival and a bright future ahead."
Offering a truly rolling programme, with many performances only on for two or three nights, audiences at the Ulster Bank Belfast International Arts Festival could select something different every night of the week for the full 24 days of Festival.
Full festival programme here: https://belfastinternationalartsfestival.com/downloads/BIAF_2015_Programme.pdf
For media information contact Vicki Caddy at ASG PR on 02890 802000 or vcaddy@asgireland.com