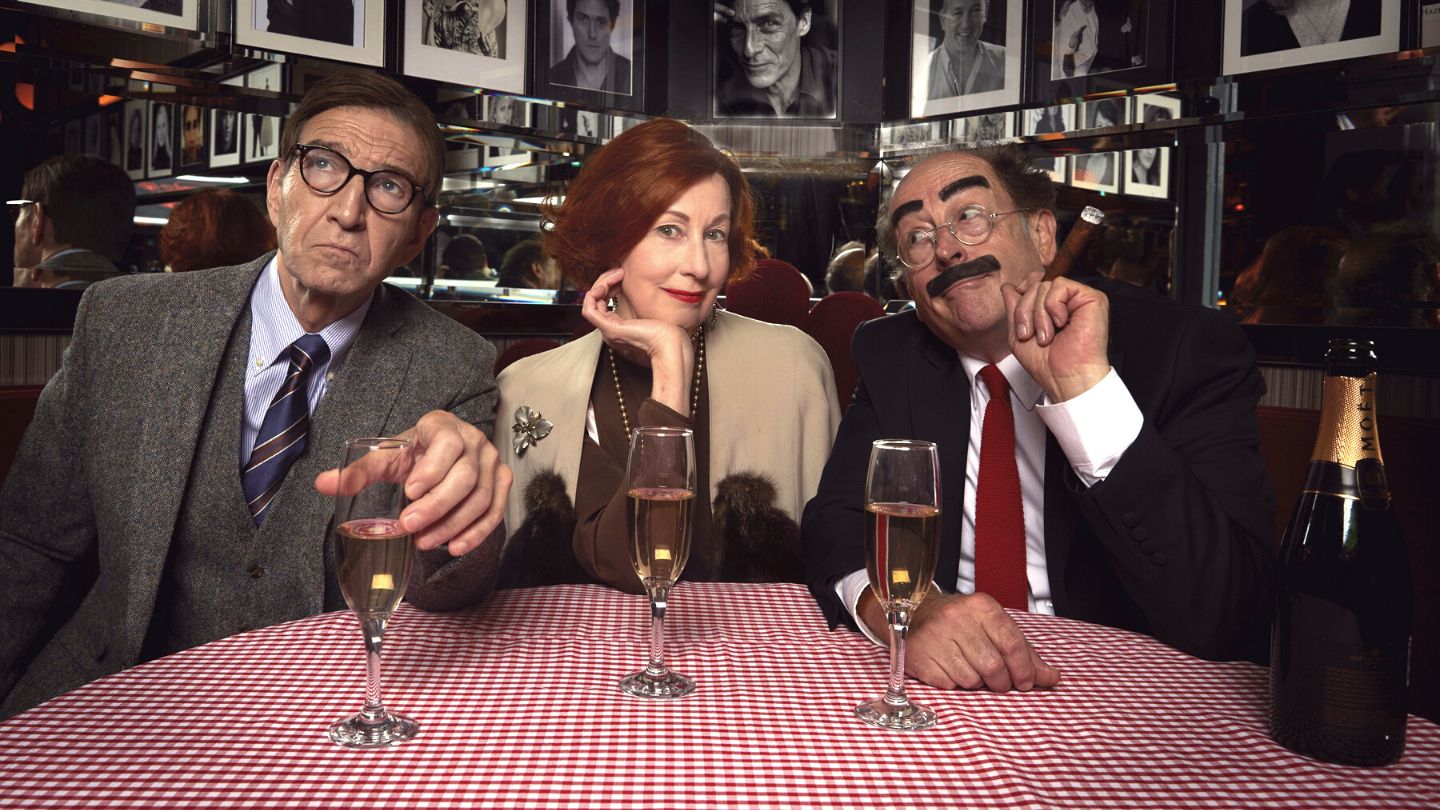 Belfast International Arts Festival Kicks Off 60th Anniversary Programme
Belfast International Arts Festival (BIAF) has opened the autumn season of its 60th anniversary year, with a multidisciplinary and truly global programme that is bringing artists and performers from around the world to the city.
Having expanded the traditional 'festival period' to mark this special occasion, BIAF celebrated by hosting a number of events in the Spring, Summer and as an immediate prelude to the main Autumn season only last week. Taking things up a gear, the festival now runs until November 6th, with over 320 events spanning the artistic fields of music, theatre, dance, film, visual arts and discussion taking place throughout Belfast.
The UK premiere of Dinner With Groucho, a new play by esteemed Irish writer Frank McGuinness, opens the Autumn programme at The MAC from 5th to 9th October. Produced by b*spoke theatre company and starring Ian Bartholomew (Coronation Street), Ingrid Craigie and Greg Hicks, this sharp, and blisteringly witty fictional dinner-date is delivered with brilliant buffoonery and impeccable comic timing. At its core are subtle reflections on the fleeting nature of life from the award-winning Donegal author, poet and playwright of such iconic plays as Observe the Sons of Ulster Marching Towards the Somme, Someone Who'll Watch Over Me and The Factory Girls.
Canadian musician, writer and visual artist Vivek Shraya brings her show How to Fail as a Popstar to Belfast on 6th and 8th October. Her album Part-Time Woman was nominated for the Polaris Music Prize, and her best-selling book I'm Afraid of Men was described by Vanity Fair as "cultural rocket fuel". In How to Fail as a Popstar, the singer and writer tells us about her path to the margins of fame as a "not quite" major popstar with lots of humour and empathy.
After two years of digital events and travel restrictions, the 2022 programme is truly international with a special focus on artists from the Middle East and North Africa bringing their works to the city, supported by Principal International Partner, British Council. After suffering an accident that left her with a broken back and a threatened career, Egyptian choreographer Shaymaa Shoukry examines the ongoing perseverance of the human spirit and our ability to carry on. On Saturday 15th October, a spectacular free acrobatic and meditative street circus double bill by Moroccan artists takes place in CS Lewis Square. Later that evening Moroccan visual artist Youness Atbane brings his performance installation Untitled 14KM which explores how the art world sees and understands contemporary art in its relation with identity, specifically Arab identity.
The as-always packed Talks and Ideas programme features authors from around the world. Two of France's most original and acclaimed novelists join a special digital event on 15th October as part of the festival's longstanding partnership with the Institut Français. GauZ, who lived in Paris as an undocumented student before returning to Côte d'Ivoire, and David Foenkinos will discuss their novels Standing Heavy (GauZ), a funny and eye-opening tour of modern Franco-African history through the eyes of undocumented workers from Côte d'Ivoire, and The Martins (Foenkinos), a playful story of a Parisian writer who decides to write a book about the first person he sees in the street. No Alibis independent book shop in the Botanic area of the city will be host to a showcase of fiction exploring the complexities of the contemporary Caribbean, from two of the region's celebrated authors Celeste Mohammed (Pleasantview) and Jacob Ross (Tell No-One About This), on 3rd November. Next week, special event Larkin in Belfast, in the new Students Union at Queens University Belfast, marks the poet's centenary and explores the legacy that Larkin left for poets and readers long after his death.
Among the wealth of home-grown talent is double Ivor Novello-nominated composer Conor Mitchell's Propaganda: A New Musical playing at the Lyric Theatre; a spooky walk-through theatre experience The Ghost House by Cahoots; an adaptation of Owen Booth's Frankenstein's Monster Is Drunk And The Sheep Have All Jumped The Fences by Big Telly Theatre; and a new collection of Street Art Operas, The Scorched Earth Trilogy by Dumbworld.
On 14th October, trip-hop, rock, electronic, indie, and dance music collective IMLÉ with Róisín Seoighe and Ríona S Hartman take to the stage in Áras Mhic Reachtain. The musicians will mix different musical styles and artforms together in a way that has never been seen or heard before in the Irish language musical sphere.
Belfast International Arts Festival's Chief Executive and Artistic Director Richard Wakely says the 60th edition is a celebration of what is to come in the future.
"While we look back to reminisce on the incredible performances that have occurred over the 60 years of the festival, we built this anniversary programme with excitement and immense enthusiasm for all that is still to be achieved. Our programme of events addresses the current and future nature and role of arts and culture in society and the contemporary issues that are influencing our international artists.
"The festival has grown and evolved to become a highlight in the cultural calendar, not only within our city but attracting visitors to enjoy imaginative, inspiring and intriguing international events with us. We are proud of all that has brought us to this milestone and look forward to further cementing Belfast's place in the global arts world."
BIAF's principal funder is the Arts Council of Northern Ireland and is also supported by Belfast City Council, British Council, the Government of Ireland's Department of Foreign Affairs, Tourism Northern Ireland and a range of project funders and sponsors.
For more information about BIAF22, including ticket deals, visit belfastinternationalartsfestival.com.
---
Photography by Barry McCall © | b*spoke theatre company