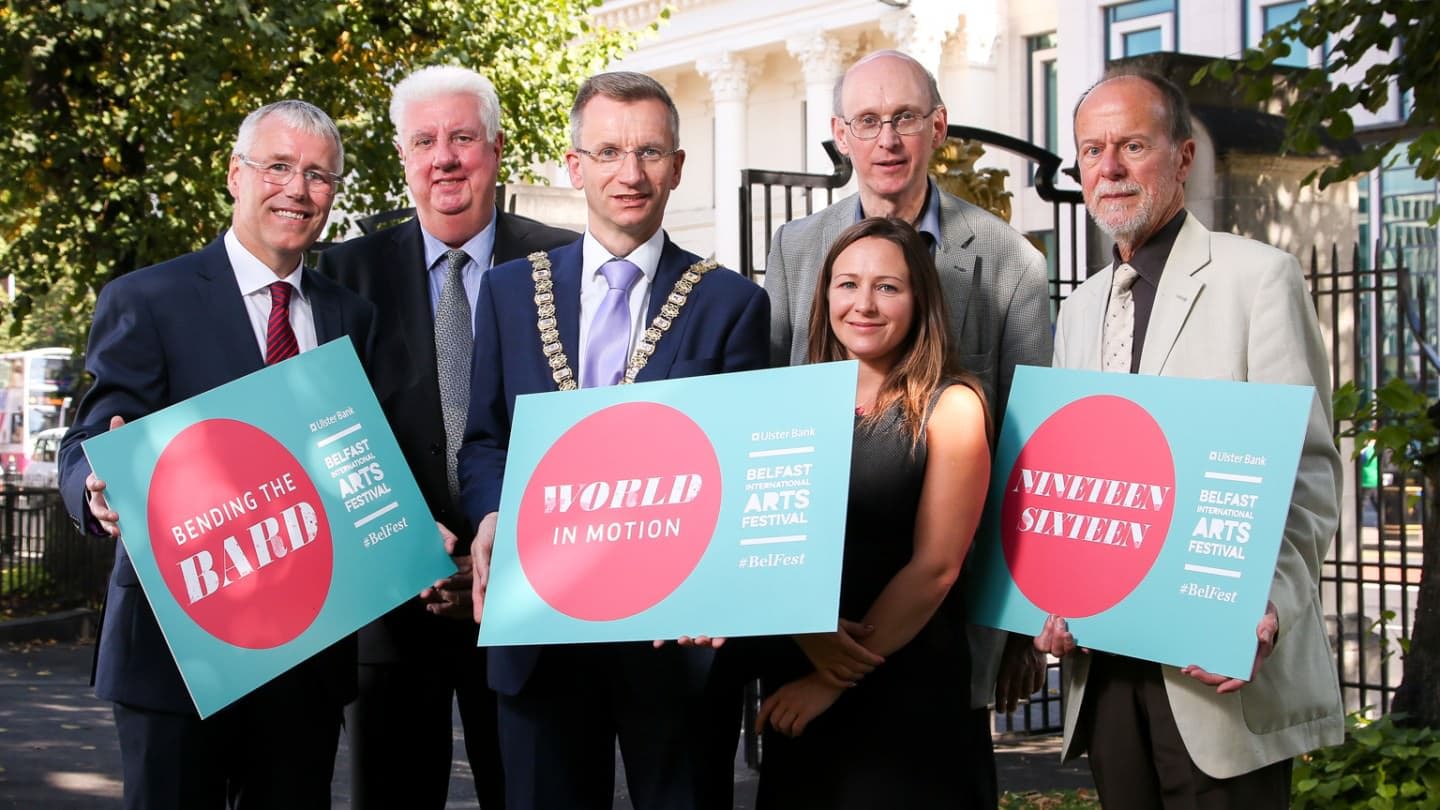 5, 4, 3, 2, 1 … #BelFest has launched!
The Ulster Bank Belfast International Arts Festival has revealed details of its 2016 programme today.
This year's Festival dates are Tuesday 11 October to Saturday 29 October.
Built around three central festival themes of Bending the Bard (Shakespeare 400 years on), World in Motion (migration and refuge) and Nineteen Sixteen (legacy of the war years), there's plenty of colour, history, culture, arts and entertainment in store in the packed programme.
Two of the Festival highlights showcased at today's launch were the hugely-anticipated first appearance in Northern Ireland of New York performance artist, Taylor Mac. An actor, playwright, singer and song-writer, Mac's show combines all the glitz and dazzle of the campest cabaret, along with daring political and social commentary and audience participation. He is funny, articulate, outspoken and highly entertaining.  A 24-Decade History of Popular Music has been jointly commissioned by the Belfast Festival and 14-18 NOW, with a range of international partners, and will explore gender, authority, class, and war, incorporating Mac's own take on Irish history.  Expect music, glitter, feathers and stunning costumes (by Machine Dazzle), interaction with the audience and a rollercoaster of emotions, ending with the start of a love affair with the act described as "The Critical Darling of the New York scene" (New York Times).  It is anticipated that Taylor Mac's shows will be the talk of the town, so they are not-to-be-missed.
Also showcased at today's launch, with a taster performance of her new piece, Run to the Rock, was critically acclaimed Irish performance artist (and last year's Festival Artist in Residence), Amanda Coogan. This live art work, specially commissioned by the Festival with the support of the British Council's Shakespeare Reworked programme, combines choreographed movements inspired by translations of Shakespeare into British Sign Language (BSL) and Irish Sign Language (ISL) with live multi-media messaging, projected images and sound, along with a stunning set and costumes.
Run to the Rock will involve deaf performers from Northern Ireland and South Africa and is based around the Robben Island Bible, a copy of the 'Complete Works of William Shakespeare' which was smuggled among the prisoners of the South African Robben Island prison, during the period of Nelson Mandela's incarceration.
Dance fans will be thrilled to hear that after much persistence, Belfast Festival has secured Bessie-award-winning New York dancer, Faye Driscoll, who will give her UK and Ireland Premiere of Thank you for Coming: Attendance at The MAC. This will sit in the dance programme alongside Butterflies and Bones from Fearghus Ó Conchúir, exploring the Roger Casement story, and a double bill of specially commissioned new dance solos from joint Festival Artists in Residence, Leonie McDonagh (of ponydance) and Oona Doherty. One of Europe's most acclaimed choreographers, Jan Martens returns to the Festival after his last visit in 2013 with Victor, to bring The Dog Days are Over, an astonishing production of physical endurance described as "a minimal, political and jumped work for eight performers" – based around only one physical action, the jump: it's sweaty stuff and a must-see.
The Festival's Opening event this year is in association with Poetry Ireland.  Weaving together the power of poetry, music, drama and imagery with the works of the likes of Heaney, Muldoon, Longley and John Hewitt, In Dreams Begin Responsibilities is a celebration of reconciliation on the island of Ireland over the last 100 years and on the 18th anniversary of the Good Friday Agreement.
Also celebrating the spoken word, the UK premiere of The Fever at the Grand Opera House will be an evening filled with drama, words and music and a host of guests, exploring the Great War and the ripple of developments that continue to develop today. The transformation of the international system and its impact on the independence of Ireland is considered in a series of performances and talks hosted by Fintan O'Toole.
In theatre, a Greek tragedy takes centre stage in this year's Festival programme, in the form of Aeschylus' The Suppliant Women in a new version by David Greig at the Grand Opera House.  Telling the story of the mythical fifty daughters of Danaus, who escaped across the sea with their father and wound up seeking refuge at Argos, the parallels of this play with the ongoing refugee crisis are evident, relevant and thought-provoking. David Grieg's previous work, The Events, was acclaimed as The Guardian's Best Play of 2013 and his modern-day retelling of The Suppliant Women will be performed by a local community cast performing alongside players from the Royal Lyceum Theatre Edinburgh and Actors' Touring Company.
Local theatre artists and companies are also well represented with  Prime Cut showcasing a double bill at An Culturlann of the critically acclaimed Scorch by Stacey Grieg and A Sinkhole in Guatemala, which marks Sarah Gordon's writing debut as part of Prime Cut's Reveal programme; Kabosh's world premiere of Green and Blue, examining the historical realities of patrolling the border from the perspectives of serving RUC and An Garda Siochána officers; Brassneck Theatre Company's latest offering, Belfast Rising and a new Belfast-based resetting of Chekhov's Three Sisters by Lucy Caldwell playing at The Lyric Theatre.
Female artists feature strongly throughout this year's Festival and no more so than in the talks and literature strand of the programme. Contributors include feminist campaigner Caroline Criado-Perez (author of Do It Like a Woman), Lisa McInerney, Irish author of Bailey's Women's Fiction prize, The Glorious Heresies, former New York Times art critic and Pulitzer prize winning author, Margo Jefferson, writer of Negroland and Yasmin Alibhai-Brown, who will be exploring the contemporary relevance of Shakespeare with the help of theatre director Conall Morrison and a group of local actors.  This year's Amnesty International lecture will be given by Labour MP Yvette Cooper on Fixing the Refugee Crisis.
Musical attractions span from multi-award-winning legends of the folk music scene, Martin Carthy and Martin Simpson, through to Belfast's Jonathan Byers playing Bach on cello, and from indie rockers Augustines and nu soul sensation, Michael Kiwanuka, through to Italian classical pianist Emanuele Arciuli, making his Irish festival debut.
Family entertainment at this year's Belfast Festival will come (for free) in the form of Micro-Shakespeare, dancing Trolleys and a spectacular underwater-themed acrobatics and lights show called Mú, all of which will be co-presented by Belfast City Council in various parks and venues across the city: tickets are limited in number so booking is highly recommended for all of these free events.
Launching the Festival programme, Festival Director Richard Wakely said:
The Ulster Bank Belfast International Arts Festival is back with a bang for 2016, with 19 days of world class artists and events. Taylor Mac and Amanda Coogan are leading artists of our time, showcasing unique new productions and exploring timeless themes. And with a richly packed programme of theatre, dance and music of all kinds, we are continuing to respond to Belfast's hunger for truly world class arts and cultural entertainment. We're putting our fantastic venues such as the MAC and the Grand Opera House to good use and we're embracing other venues right across the city, with many free events to entice younger audiences and families to enjoy the magic of the arts in our public spaces.
Richard Donnan, Ulster Bank's Head of Northern Ireland, said:
The programme for the 2016 Ulster Bank International Arts Festival includes a world-class array of talent to enrich the city and provide an outstanding opportunity for local people to engage with the arts. Looking at the programme makes me very proud of the work we at Ulster Bank have done together with Richard Wakely and the whole team behind the festival. Over the last 10 years, I have been inspired by the way it has evolved, and I have been delighted that Ulster Bank's sponsorship has enabled the attraction of global talent, ranging from Charlotte Rampling to Bettye LaVette and Taylor Mac. I very much look forward to this year being another high-calibre celebration of the arts and a fitting and impressive platform to showcase this truly important event.
Roisin McDonough, Chief Executive, Arts Council of Northern Ireland said:
The importance of staging an international arts festival in Belfast cannot be overestimated. As the Festival's principal funder, the Arts Council of Northern Ireland recognises its enormous contribution to high-quality arts and culture in return for a relatively small amount of public investment.  We are delighted to support the Belfast International Arts Festival once again and we wish the team every success with this year's terrific programme.
Belfast Lord Mayor, Alderman Brian Kingston, said:
Belfast City Council is pleased to continue its ongoing support for Belfast International Arts Festival and enhance our reputation for positioning Belfast globally. Attracting top international acts helps Belfast secure its place as a city providing a world class range of entertainment. Audiences – both local and visiting – will undoubtedly be impressed by the line-up announced today.
Chief Executive of Tourism NI, John McGrillen said:
The Belfast International Arts Festival makes a significant contribution to tourism in the low season months and presents a great opportunity for visitors to stay longer and contribute more to our economy. I commend the dedication and hard work of Richard and his team for the creation and delivery of a high quality event.
Jenny Waldman, Director, 14-18 NOW said:
One hundred years ago this year, the First World War was entering its darkest days. As the conflict entered its third year it must have felt as though the war would last forever, a sensation heightened by the intense brutality of the Battle of the Somme. It is important to remember the momentous impact of the First World War in Northern Ireland as well as mark the centenary of the Easter Rising, and we are delighted to be co-commissioning with Belfast International Arts Festival a new work from Taylor Mac which explores this pivotal moment in history.
Neil Webb, Director of British Council Theatre and Dance, said:
We had an outstanding calibre of artists from the UK take part in the research and development phase for Shakespeare Reworked, and I am delighted that Amanda Coogan's Run To The Rock project has been selected to be developed into a full-scale production. The artistic collaboration in this project between Deaf performers from Northern Ireland and South Africa demonstrates how Shakespeare continues to live in all people and all nations. I very much look forward to seeing how Amanda's project continues to grow, as she has placed Shakespeare at the heart of a project that makes Live Art more accessible to Deaf audiences and explores the creative potential of sign language.