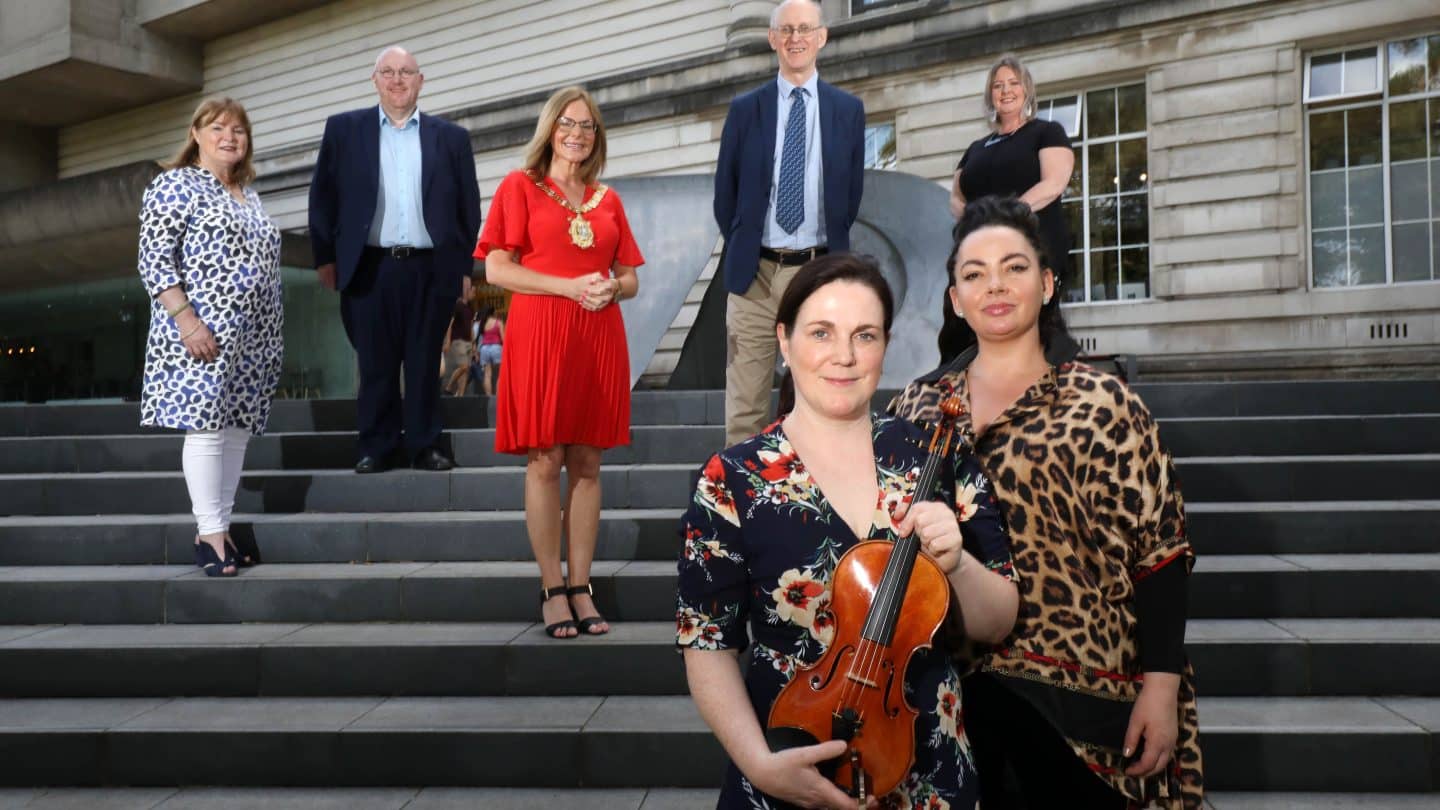 BELFAST INTERNATIONAL ARTS FESTIVAL REVEALS 60TH AUTUMN PROGRAMME
The 60th Belfast International Arts Festival (BIAF) has unveiled the autumn season of its diamond anniversary year, with a programme of events that addresses the current and future nature and role of arts and culture in society, the contemporary issues that are influencing our international artists, and Northern Ireland's place in the global world.
From October 5 to November 6, over 320 imaginative, inspiring and intriguing events spanning across the artistic disciplines of music, theatre, dance, film, visual arts and discussion will be hosted throughout the city of Belfast for all to engage with and enjoy.
The autumn programme follows an earlier-than-usual festival opening in April 2022, when BIAF celebrated the beginning of its anniversary year with a major free event; the spectacular outdoor production Cristal Palace by French company Transe Express, featuring a local community cast.
The festival's autumn season opens on 5 October with the UK premiere of Dinner With Groucho, a new play by renowned Irish writer Frank McGuinness. Produced by b*spoke theatre company, the performance promises blistering wit, brilliant buffoonery, and reflections on the ephemeral nature of life from the award-winning writer of such iconic plays as Observe the Sons of Ulster Marching Towards the Somme, Someone Who'll Watch Over Me and The Factory Girls.
At the heart of this year's programme is a special focus on Canada and the Middle East and North Africa. Canadian events include Vivek Shraya's How to Fail as a Popstar, a reflection on the power of pop culture, dreams, disappointment and self-determination; the European premiere of The Queen and Me, an exuberant new opera involving comedy and drama from Teiya Kasahara 笠原貞野 (they/them) exploring the many ways that race, gender, and sexuality are policed in the opera industry, and closing the festival, the critically acclaimed Kiinalik: These Sharp Tools bringing together two extraordinary artists to examine their intertwined histories, colonial legacies and the changing climate we all face.
A special focus on new contemporary works from the Middle East and North Africa is among projects supported by the British Council, BIAF's Principal International Partner, and features Another Lover's Discourse ليه خلتني احبك, a newly commissioned work from Palestinian interdisciplinary artist, Riham Isaac plus new stage works from Egyptian choreographer, Shaymaa Shoukry and Moroccan live performance and visual artist, Youness Atbane, as well as A Night of Musical Journeys concert featuring recently arrived refugees from across the Middle East. Additionally, BIAF will host delegations of artists and programmers from the Middle East and India who will have the opportunity to see the work of local artists at first hand. In particular, there will be an exchange of delegations between BIAF and Cairo's D-CAF (Downtown Contemporary Arts Festival) with Belfast welcoming D-CAF's Director, Ahmed El Attar in October with an opportunity for local audiences to hear him speak about the current contemporary arts scene in Egypt and the Arab world.
Fans of traditional Irish music will be delighted as Martin Hayes, one of the world's most celebrated fiddlers and an influential figure in the genre, brings his latest project, The Common Ground Ensemble, to the Grand Opera House on Tuesday 25th October. The following night, hit-maker Paul Carrack takes to the stage.
The BIAF22 Talks & Ideas strand brings together international and local names to explore thought-provoking topics including state violence, freedom of speech and movement, culture, society, impermanence and the creative possibilities opened up by our digital world. As part of the festival's long-standing partnership with Institut Français, two of France's most original and acclaimed novelists, GauZ' and David Foenkinos, will join a free digital event to discuss their latest works, while the Black Box will play host to one of the finest and funniest chroniclers of modern England, Jonathan Coe, as he reads from and discusses his new novel, Bournville.
Belfast International Arts Festival's Chief Executive and Artistic Director Richard Wakely says the 60th edition is an opportunity to take stock and set out a vision for its future.
"60 years is a momentous occasion, and we pause to reflect on the artistic talent and creative commissions that have seen Belfast International Arts Festival reach this significant milestone, our diamond anniversary. This year's festival is however determinately future-facing, underscored by creative collaboration and a truly international programme that reflects our core values; global connectivity, community, access and participation, and contemporary arts practice. The festival has evolved much over the past six decades, and it continues to do so with this year's programme demonstrating the unique ability of artists to respond to the changing world around us.
"From homegrown talent and platforms such as our Artist in Residence and new Featured Artist programmes to significant bodies of work from Canada, Europe and the Middle East and North Africa, our festival this year reflects the vital role we play in the very fabric of Belfast and its contribution to the city's growing status and appeal as a major cultural capital."
Complementary to its long running Artist in Residence programme, this year's festival includes a new strand of programming, the Featured Artist, which takes a more in depth look at the work of a leading artist or ensemble. The first Featured Artist is the young rising star of French and European dance, Noé Soulier whose works are showcased live and online.
Also storming a trail in Europe is leading NI dancemaker Oona Doherty's largest project to date – Navy Blue, which makes its homecoming appearance 25-26 Oct. Among other featured home-grown talent is double Ivor Novello-nominated composer Conor Mitchell's Propaganda: A New Musical, playing at the Lyric Theatre, The Ghost House by Cahoots building on the sell-out success of last year's Grimm Hotel, and an adaptation of Owen Booth's Frankenstein's Monster Is Drunk And The Sheep Have All Jumped The Fences by Big Telly Theatre.
In the spirit of collaboration, BIAF welcomes old and new partners with the longstanding Belfast Music Society's Northern Lights Mini-Fest and the popular free BBC Radio 3 concert series; Belfast Harbour is once again sponsoring the community ticketing scheme; and a new collaboration with Design & Crafts Council Ireland, Craft NI, and National Museums NI brings the outdoor exhibition Irish Craft Heroes to Botanic Gardens, which highlights 50 years of craft making and makers across the island.
Roisín McDonough, Chief Executive, Arts Council of Northern Ireland, commented, "The Arts Council, as long-time principal funder, is proud to support Northern Ireland's flagship festival of contemporary international arts. We endorse it, not just as a showcase and meeting place of new ideas and new creativity, but for its desire to open up this inspiring world and share it with everyone – to expand the audience for contemporary arts through community ticketing incentives and free and low-cost events, so that everyone is encouraged to embrace this very special anniversary festival. Happy 60th anniversary!"
The Lord Mayor of Belfast, Councillor Christina Black, said, "Belfast City Council has been a longstanding supporter of Belfast International Arts Festival and we are delighted to support the festival's 60th edition: the autumn programme – a key highlight in Belfast's cultural calendar.
"The festival has earned a reputation as a progressive, contemporary, global arts event that contributes to Belfast's profile and reputation as a vibrant cultural city. With civic engagement at its heart, it brings our community together, but it also connects our city with new audiences afar, showcasing our rich local talent and highlighting our UNESCO status.
"I am very much looking forward to enjoying the range of activities on offer during this special anniversary year."
Tourism NI's Chief Executive, John McGrillen, commented, "This year marks the 60th Belfast International Arts Festival, which we are delighted to support. Events and festivals contribute greatly to the positive perception and profile of Northern Ireland, and are recognised as crucial economic drivers. I wish the organisers, sponsors, participants, and attendees the best of luck for an exciting event."
Jonathan Stewart, Director British Council Northern Ireland, said, "At the British Council we have a long history with Belfast International Arts Festival and have been a partner since its inception in 1962. It's therefore immensely rewarding for us to see in this 60th anniversary year that international connections and relationships continue to grow.
"In 2022, we are welcoming artists and arts organisations from across the Middle East and North Africa to Northern Ireland and look forward to sharing exceptional performance art from the region with local audiences. In addition, we're supporting new connections between Northern Ireland and the Caribbean, with the festival linking to Bocas Lit Fest in Trinidad and Tobago.
"The festival is a vital part of Northern Ireland's cultural calendar and does an incredible amount of work for our arts sector, and we wish them every success in this significant milestone year."
For more information about BIAF22, including ticket deals, visit belfastinternationalartsfestival.com.
Stay, relax and soak up the atmosphere with luxury hotel group Hastings Hotels, who are BIAF's official accommodation partner. Check out the special BIAF rate (subject to availability), from £65 pps double or twin including breakfast at The Grand Central and from £50 pps double or twin including breakfast at The Europa Hotel. Click here for more details
---
Photo Left to Right: Jackie McCoy Chair BIAF, William Leathem Vice Chair Arts Council of Northern Ireland, Lord Mayor of Belfast Councillor Tina Black, Richard Wakely Director BIAF, Siobhan McGuigan Tourism Northern Ireland, joined by violinist Joanne Quigley McParland and pianist Ruth McGinley, who helped launch the 60th Belfast International Arts Festival Autumn programme in the Ulster Museum on Tuesday 9 August.