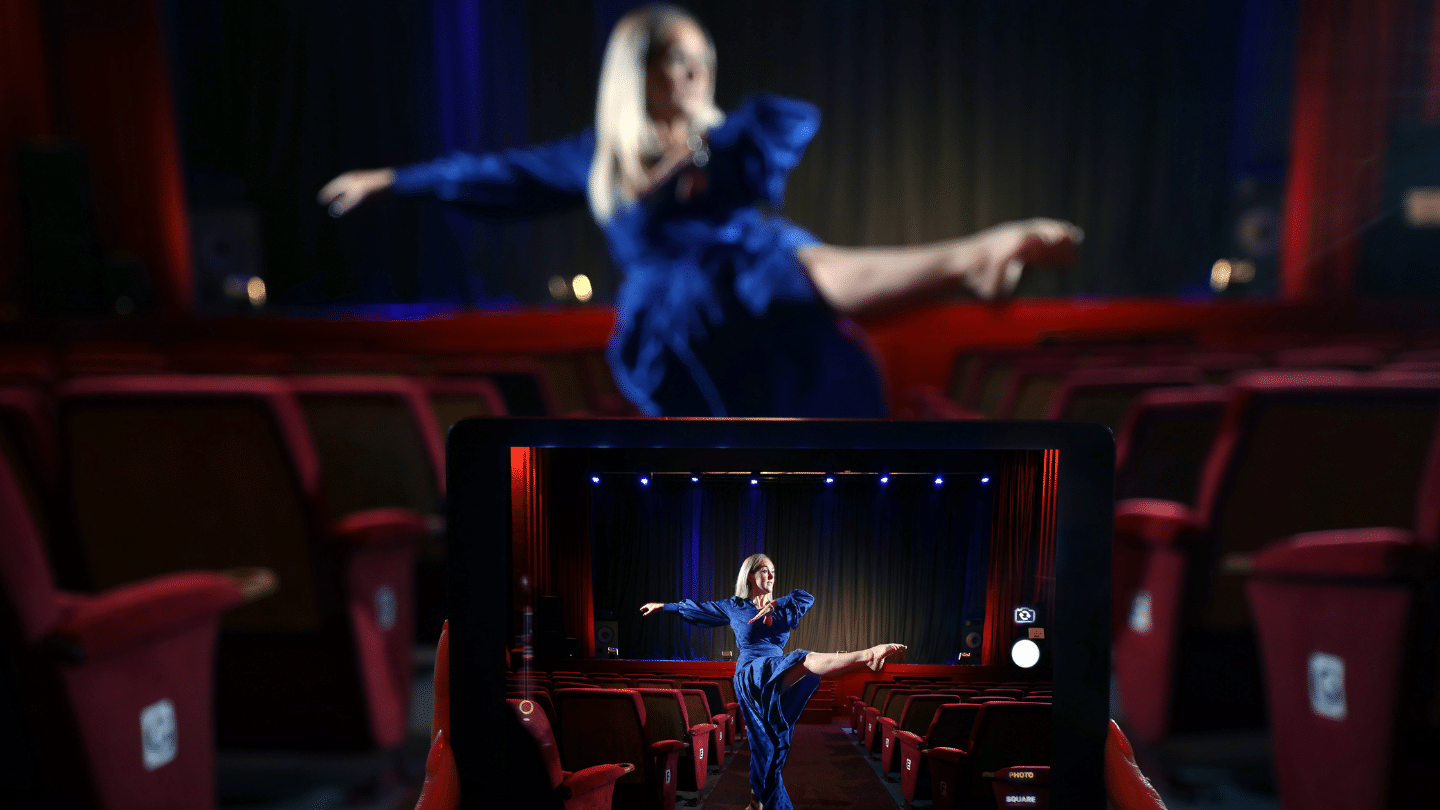 Festival Launches Digital & Live Programme For 2020
The 58th Belfast International Arts Festival (BIAF) has been digitally launched with an imaginative and inspirational programme for the times we live in, as Northern Ireland's leading contemporary multi-artform festival largely goes virtual for 2020.
From October 12 to November 1, inspirational events featuring dance, music, theatre, film, visual arts and discussion will be largely hosted online, with a small number experienced in-person. The impressive programme responds creatively to the current pandemic and explores matters of contemporary interest such as gender equality, multi-culturalism, representation, the climate crisis, and democracy.
BIAF20 will open with the premiere of a new online and interactive theatrical production of Macbeth by local company Big Telly, who have become a world leader in live digital theatre. Opening first to secondary schools, before being available to the general public from Wednesday 14 to Saturday 17 October, this imaginative reboot of Shakespeare's timeless, blood-soaked tale is performed live on Zoom.
The theatre offering continues with Portuguese theatre maker and performer Pedro Penim's DOING IT. This livestreamed lecture performance will take the audience on a virtual journey across Pedro's 'island collection', learning about these hidden places and his secret obsession with our planet's remote islands. The University of Wonder & Imagination by Cahoots NI promises to be a fun-filled, immersive theatrical experience for families, and will be broadcast from an extensive, purpose-built set where magic and illusion have no boundaries.
A special series of art films focusing on contemporary dance will see leading NI dancer and choreographer Oona Doherty in conversation with Italian filmmaker Luca Truffarelli, discussing their relationship as artists and their several collaborations, accompanied by film extracts. As part of BIAF's continuing partnership with Institut Français, the festival will also host the Ireland premiere of If It Were Love, a film which marks the highly successful fusion of an out-of-the-ordinary dance show, Crowd by Gisèle Vienne, and the hyperlucid sensitivity of filmmaker Patric Chiha.
Belfast International Arts Festival is honoured to support and contribute to Belfast Music Society's centenary celebrations by broadcasting a series of exclusive recitals and concerts, featuring renowned Irish pianist John O'Conor, Derry cellist Kim Vaughan; Ben McAteer, first winner of NI Opera's Festival of Voice competition; Piatti Quartet, one of NI's most successful young professional ensembles; and the Ulster Orchestra chamber ensemble
Spark Opera will sing in four-part harmony the Irish premiere of a choral adaptation of The Belfast Agreement, composed by Clare Salters, who worked in the Northern Ireland Office and was involved in the negotiations. Singing Struggle and Agreement on Wednesday 14 October, will be one of the select live events to take place during the festival, in the impressive surroundings of St Anne's Cathedral, and will also feature songs of struggle from across the world. Alan Meban hosts a panel discussion with former BBC Northern Ireland political editor Stephen Grimason, former politician Professor Monica McWilliams and composer Conor Mitchell reflecting on the negotiations leading up to Easter 1998, and the role of art in amplifying and soothing political differences at home and abroad.
Conor Mitchell will also treat audiences to a new piece of video performance art as Belfast Ensemble reinvent Beethoven with their new work, Septet (for four), created to mark the 250th birthday of Beethoven.
In advance of its general release in March 2021, BIAF has secured a very special premiere of Call Nina!, which follows the making and touring of 'Nina – A Story About Me and Nina Simone', by British actress and activist, Josette Bushell-Mingo OBE, who brought the house down and audiences to their feet at BIAF in 2018. This documentary promises to be as compelling and of-the-moment as the original showstopper.
The BIAF20 Talks and Ideas programme brings together the best of contemporary fiction in both established names, such as Sebastian Barry and Sarah Moss, and the newer voices of Daisy Johnson and Bryan Washington; shows how the political meets the personal, with Stuart Maconie and Jenni Murray; explores the feminist movement with Helen Lewis and Lennie Goodings; and hosts essential discussion on race, prejudice and equality with Kevin Maxwell and Nazir Afzal. There will also be light relief from comedian, actor and writer Robert Webb who will talk about his acting and writing work, and his near-death experience that chimed eerily with his latest novel.
The move of the Talks & Ideas events online has brought about a new cross-border partnership with Westival, an annual festival of arts and culture based in Westport, County Mayo. This partnership is a key feature of IN-visible ID-entities 2, a strand of BIAF programming encouraging cultural collaboration across the island and supported by the Government of Ireland's Department of Foreign Affairs.
As BIAF draws to a close, on Sunday 1 November, the eve of the US Presidential election, two British-American experts on US history, civil rights and politics will come together to discuss what brought us to the 2020 US election – and where we go from here. Sarah Churchwell and Michell Chresfield, hosted by The Irish Times' Fintan O'Toole, will discuss how the history of white nationalism in American politics has led us to this point, and what's at stake when US voters go to the polls.
Recognising the challenges faced by the arts sector and by audiences amid this pandemic, most BIAF20 events are free of charge. Audiences are encouraged to make a donation when booking tickets. It is hoped that this approach will reduce barriers preventing people enjoying the arts at this time. Supporters will have the opportunity to invest in future festival editions and projects, either with a one-off gift or monthly donation. Thanks to support from Halifax Foundation for Northern Ireland, BIAF is delighted to be able to offer a select number of audio-described and captioned performances, widening accessibility for audiences.
In addition to the public programme, BIAF also has an expanded range of professional development initiatives to support artists. These range from a digital showcase of local talent for international arts programmers, a series of artist commissions and the customary Festival Artist in Residence, which this year has been awarded to local dance maker, Eileen McClory.
Festival Director, Richard Wakely, said, "Despite all external challenges, art finds a way to prevail and bring us light. It pulls us together through thought-provoking performances and discussions that are for our enjoyment, whether experienced digitally or socially distanced in-person. This is our most ambitious Belfast International Arts Festival programme yet, due to the ever-changing challenges posed by the pandemic. We look forward to bringing our events to the public online and to hosting a select number of live events, in-keeping with Covid-19 restrictions."
BIAF's principal funder is the Arts Council of Northern Ireland and is also supported by Belfast City Council, Department for Communities, British Council, the Government of Ireland's Department of Foreign Affairs and a range of project funders and sponsors.
Roisín McDonough, Chief Executive, Arts Council of Northern Ireland, said, "The Arts Council of Northern Ireland is immensely proud to be Principal Funder of Belfast International Arts Festival which has, this year, in these adverse conditions, brought an inspirational programme to audiences. Richard and the team at BIAF have risen to the challenges brought by the Covid-19 pandemic and the many venues that remain closed, by producing an innovative, impressive and world-class digital programme. Audiences may enjoy interactive, live-streamed work for all the family from their very own living rooms, as well as engage with artists from around the world online; dance from France, drama from Portugal and of course I include the high calibre creative work of our artists in Northern Ireland.  I would encourage everyone to get online, book early and enjoy some wondrous drama, discussions and events."
The Lord Mayor of Belfast, Alderman Frank McCoubrey, said: "We are delighted to continue our support for Belfast International Arts Festival this year. I've been so encouraged to see how many organisations and artists have adapted their activities and programmes to develop and showcase the city's cultural offerings during this challenging time. Belfast International Arts Festival is responding creatively to challenges posed by the pandemic with a desire to find new ways for audiences to experience, engage and participate in the arts. As ever, it promises to bring the best of international arts to Belfast as well as providing an opportunity to shine the international spotlight on the wealth of creative talent here in Northern Ireland.
"In April, Belfast City Council launched a 10 year cultural strategy, A City Imagining, to help meet the Belfast Agenda vision for 2035, which imagines a culturally vibrant city. As part of this ambition, it's important to support this cornerstone of Belfast's cultural calendar, helping to set the scene for Belfast's exciting year-long cultural programme in the year 2023. And that ambition has even greater importance now as our cultural sector plays a key role in our city's recovery."
Jonathan Stewart, Director British Council Northern Ireland, said, "The British Council are really pleased to be once again supporting this year's Belfast International Arts Festival. The festival team has succeeded during extremely difficult times in bringing together another strong and exciting programme of work. This year's festival presents the best of local and international artists and work, which will engage and delight audiences. The strong emphasis on innovative digital programming will ensure that the festival reaches wider and new audiences across the world, helping to establish new international connections as well as deepening existing relationships."
For more information about BIAF20 and to book tickets, visit belfastinternationalartsfestival.com.